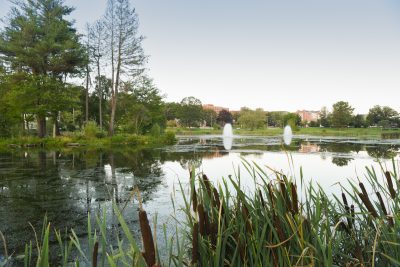 POST-SCOPING NOTICE
CEPA Determination: The Mirror Lake Improvements project recently completed a preliminary design phase. Beginning on November 16, 2021, the University of Connecticut published the first of three Notices of Scoping to solicit public comments for this proposed action in the Environmental Monitor. A public scoping meeting was held virtually on December 8, 2021 and the 30-day comment period closed on December 16, 2021. 
Comments were received from the Connecticut Department of Energy and Environmental Protection, the State Historic Preservation Office, and Preservation Connecticut during the public comment period. A summary of comments and responses may be found at updc.uconn.edu/mirror-lake.
Upon consideration of the comments received, the University of Connecticut has determined to proceed with the preparation of an Environmental Impact Evaluation (EIE).
Agency contact:
Name: James Libby, AIA, LEED AP, NCARB
Agency: University of Connecticut, University Planning, Design and Construction
Address: 31 LeDoyt Rd, Unit 3038, Storrs, Connecticut 06269-3038
Phone: (860) 486-3117
E-Mail: james.libby@uconn.edu
Inquiries and requests to view and or copy documents, pursuant to the Freedom of Information Act, must be submitted at publicrecords.uconn.edu/make-a-request.
What Happens Next: The Mirror Lake Improvements project has just completed Schematic Design and is scheduled to conclude two subsequent design phases by Fall 2022.  The University anticipates construction to begin in Spring 2023 and complete in Fall 2024.
The University of Connecticut is preparing an EIE and is continuing engineering design of the proposed Mirror Lake Improvements project. When the EIE is completed, it will be published in a future edition of the Environmental Monitor and presented for public comment.