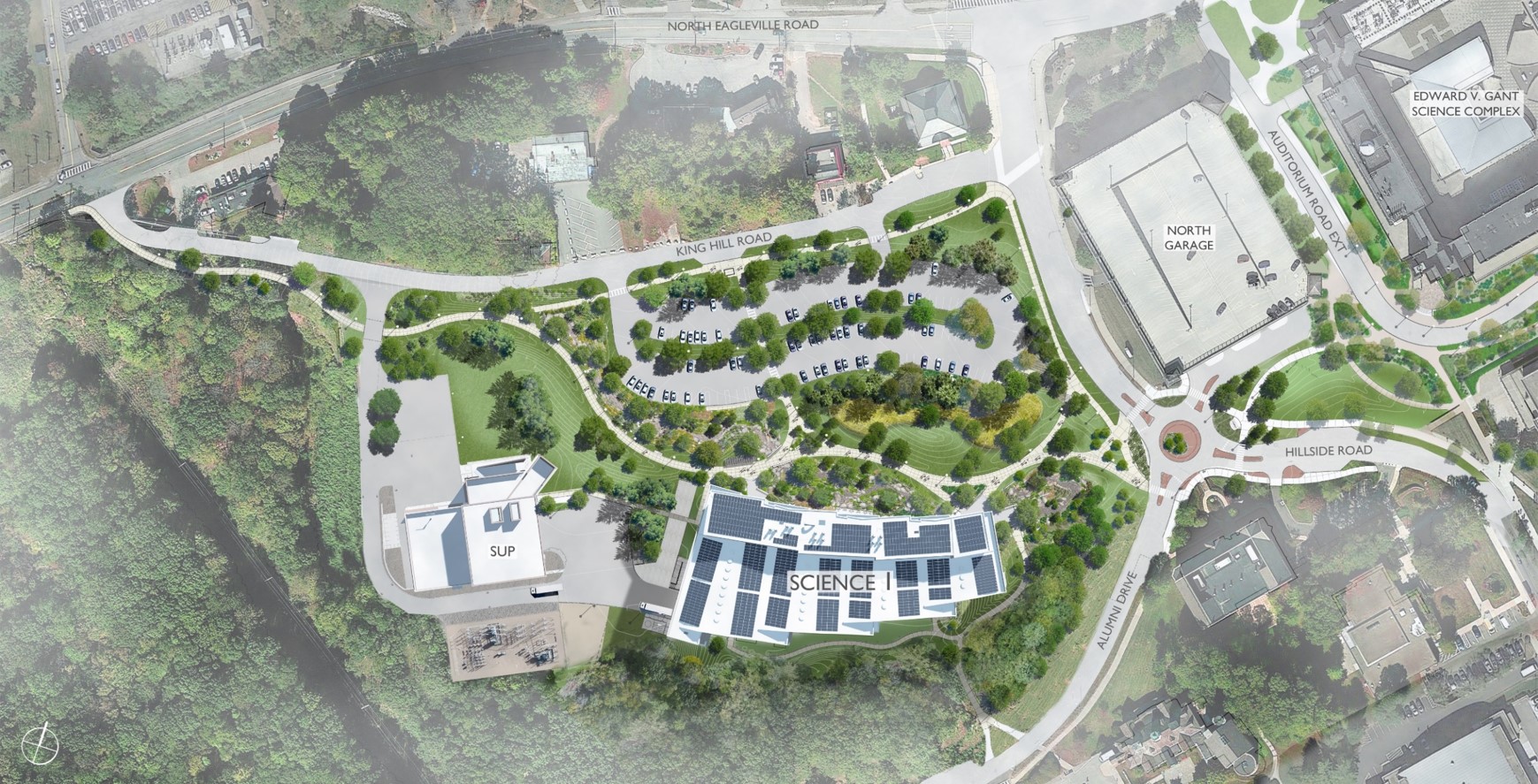 Time lapse of construction July 2020-August 2022
PROJECT INFORMATION
The new Northwest Science Quad, a cornerstone of the Next Generation Connecticut program, began construction in July 2020.  Comprised primarily of a large science building, a supplemental utility plant and subsurface tunnel, a performative and healing open space, and a parking area, the Northwest Science Quad is scheduled to open in the spring semester of 2023.
The Science 1 Building is one of the largest projects in the Next Generation Connecticut initiative, which was announced in 2013 to significantly expand UConn's educational and research work in STEM (science, technology, engineering and math) fields.   The building will be one of UConn's largest and most technologically advanced facilities when it opens. Its 198,000 square feet will house research, teaching and core laboratories; a new 240-seat active-learning room designed to engage students more dynamically than traditional lecture halls; and faculty offices, public spaces including a new cafe, administrative support offices and informal gathering spaces.  It also includes a "clean room," which is a space designed to support specialized scientific research in a tightly controlled environment where contamination is minimized to protect the work by filtering airborne particles such as dust or other particulates from within the room.
The building and the nearby Gant Science Complex will be served by the new Supplemental Utility Plant (SUP), which will provide heat, electricity, emergency power and cooling, and will connect via underground infrastructure to the Central Utility Plant on Glenbrook Road. The SUP project also includes electrical upgrades to significantly improve the campus electrical distribution system.  Work has been under way in recent years to extend the infrastructure by extending the utility tunnels under Auditorium Road adjacent to the Jorgensen Center for the Performing Arts.
The Northwest Science Quadrant will also include a new space – characterized as the woodland corridor in the University's 2015 Campus Master Plan — running east to west in the midst of the quad. That will provide an attractive, landscaped area to help UConn meet environmental goals for stormwater management and natural habitats for plants and wildlife.