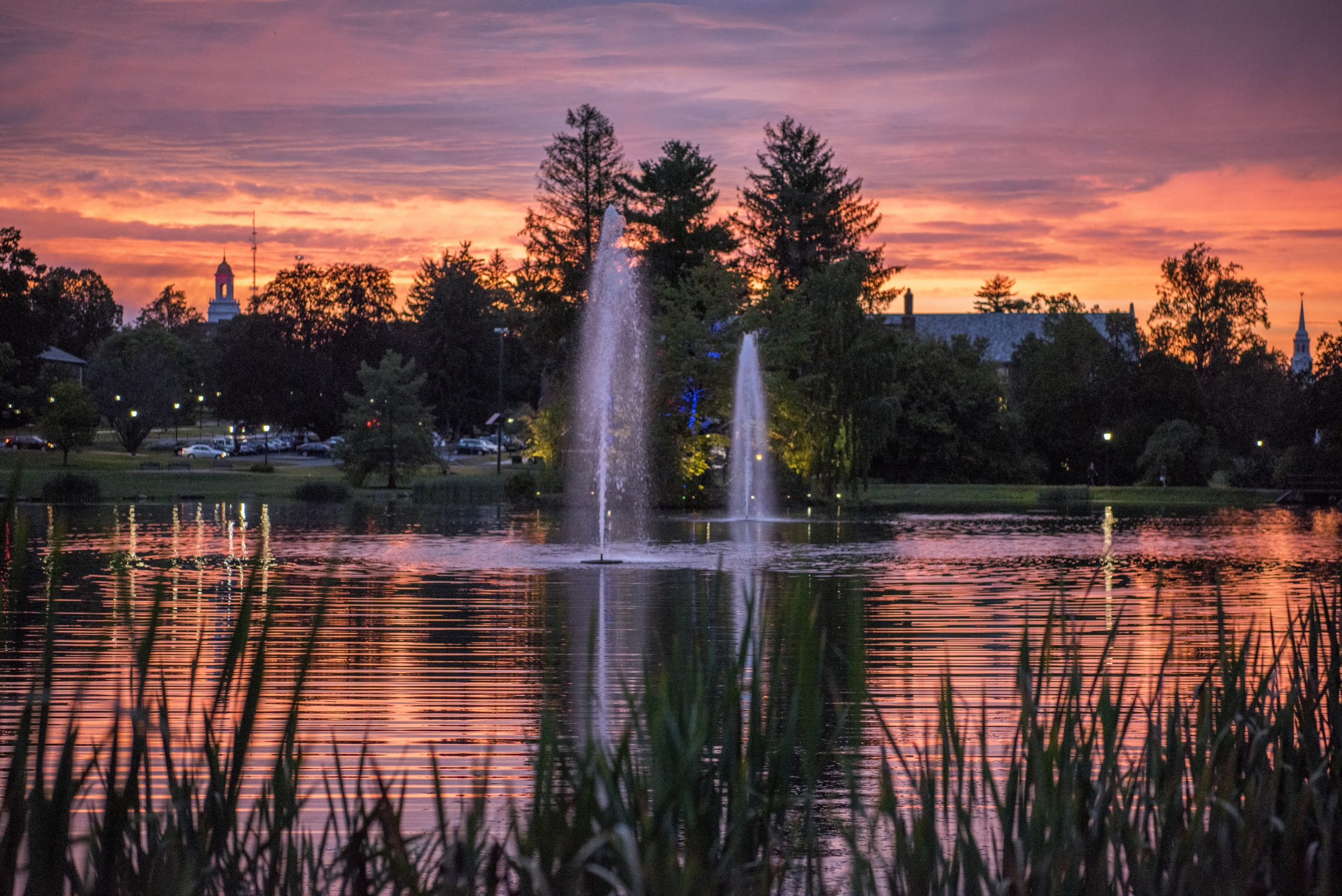 PROJECT PURPOSE
Mirror Lake has been a beloved and historic campus landmark since 1922.  After multiple decades of deferred maintenance; accumulating silt, sediment and pollutants; significant campus development within its watershed over the same period of time resulting in an undersized stormwater facility; and, a damaged spillway and a dam that recently received an elevated hazard classification, various improvements to Mirror Lake are now essential.  Numerous studies recently completed for Mirror Lake – an unimplemented dredging plan in 2012, a campus master plan and water quality assessment in 2015, a campus drainage master plan in 2018, a dam inspection report in 2020, and a feasibility study in 2021 – each concluded with recommendations for the University to take action.
This project will design and construct improvements that were identified in the feasibility study and satisfy requirements of the campus drainage master plan in order to execute an MOU between UConn and DEEP and a master flood management certificate (FMC) for the Roberts Brook watershed.  The improvements will also support other project milestones and planned openings within the watershed, such as the proposed South Campus Residence Hall and its enabling infrastructure.
The Mirror Lake Improvements project is currently in the Design Phase with anticipated design completion in Fall 2022. Construction is anticipated to begin in Spring 2023 with a Construction Manager and be complete in Fall 2024.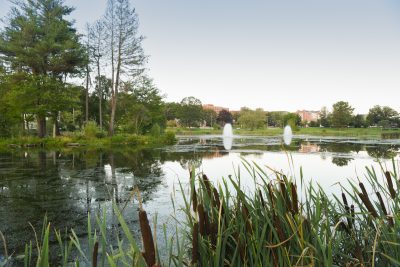 Proposed Action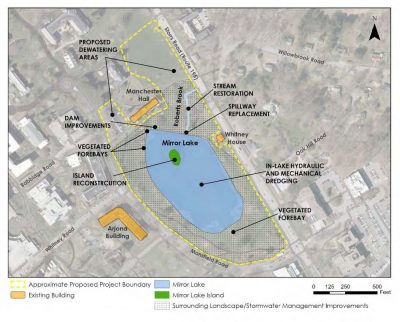 Record of Decision
The proposed project consists of the following elements:

Dam safety improvements, including replacing the existing spillway with a stepped spillway and raising the dam's earthen embankment

Stormwater management improvements, including the rerouting of several discharge points into sedimentation forebays and regrading of upstream and downstream slopes

Dredging and improvements to aquatic ecosystems, including the use of hydraulic and mechanical dredging to remove accumulated sediments and restore the lake depth

Landscape improvements, including littoral zone plantings and site-specific amenities that enhance cultural benefits and improve access to the water's edge
The Mirror Lake Improvements project was identified in UConn's Campus Master Plan as a key near-term landscape project aimed at amplifying the University's commitment to sustainable, resilient landscapes and enhancing Mirror Lake's function as a ceremonial entry to the South Campus. This project will be an opportunity for the University to improve the Lake's hydrological performance and natural aesthetic, while also expanding access to the water's edge and celebrating the Lake as an important cultural asset and entry point to the campus.
Connecticut Environmental Policy Act (CEPA) Determination:
 On April 5, 2022, the University published a Notice of Availability of an Environmental Impact Evaluation (EIE) in accordance with Section 22a-1d of CEPA, in the Environmental Monitor.
The public review and comment period began 
on April 5, 2022 and ended on May 20, 2022. 
The University held a public hearing on April 13, 2022 via GoToWebinar. The public hearing was livestreamed and a recording can be viewed at 
http://updc.uconn.edu/mirror-lake
. A copy of the public hearing's presentation is also included in Attachment E of the Record of Decision. The EIE was noticed for a second time in both the Environmental Monitor (August 2, 2022; August 16, 2022; September 6, 2022) and the Willimantic Chronicle (August 2, 2022; August 9, 2022; August 16, 2022) as special provisions related to public notification from Executive Order No. 7I had terminated prior to the first notice in April. 
Copies of these notices and advertisements are provided in Attachment E. 
A second comment period was also opened from August 2, 2022 to September 16, 2022 to allow for any additional questions or comments from the public, and none were received.
T
he Record of Decision contains all comments submitted on the EIE, including those received from the general public during the public hearing. Copies of comments received on the EIE and their responses are provided in Attachment F. Additional comments were received from the Town of Mansfield and the Connecticut Department of Energy and Environmental Protection. 
The University 
has prepared responses
 to the substantive issues raised in the comments on the EIE and on supplemental materials or amendments. The University's c
onclusion is documented in the 
Record of Decision
for the proposed action.
Agency contact:
Name: Ian Dann, Project Manager
Agency: University of Connecticut, University Planning, Design and Construction
Address: 3 Discovery Drive U-6038, Storrs, Connecticut 06269-6038
Phone: (860) 486-6503
E-Mail: ian.dann@uconn.edu
Inquiries and requests to view and or copy documents, pursuant to the Freedom of Information Act, must be submitted at https://publicrecords.uconn.edu/make-a-request.
What happens next: The University has submitted the Record of Decision to the Office of Policy and Management (OPM) for review. OPM's determination regarding the Record of Decision will appear in a future edition of the Environmental Monitor.