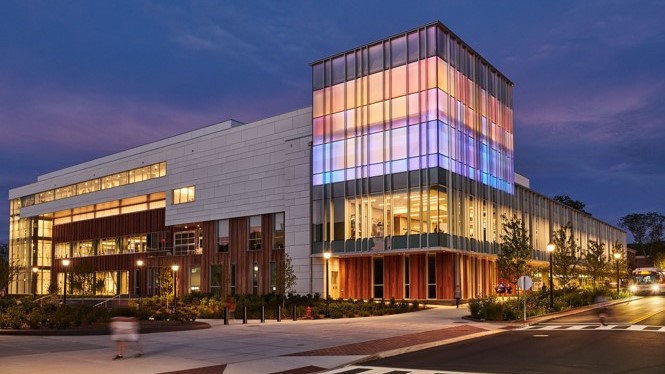 Student Recreation Center
After nearly two years of construction and countless hours of planning and design, the new three-story 191,000 square foot student recreation center opened its doors in August 2019. Programming started in October 2015 with considerable input from students, staff and the Student Advisory Committee.
The facility includes approximately 30,000 square feet of fitness space, a four-court gymnasium, two multipurpose activity courts, an indoor running track, an aquatics center with a 25-meter pool and a recreational pool, a climbing center, racquetball courts, an outdoor recreation center and functional training and multipurpose rooms for use by the students and the UConn community.
The new recreation center is located on Hillside Road across the street from the UConn Bookstore. The project conforms to Connecticut High Performance Building Code regulations, is registered as a LEED Gold and a SITES-certified project.