Updated June 30, 2018
As campus improvements associated with UConn2000, 21st Century UConn and Next Generation Connecticut continue, please plan for travel delays and traffic impacts related to this summer's construction activities.
Most notably, a portion of Hillside Road is closed between Glenbrook Road and Gilbert Road.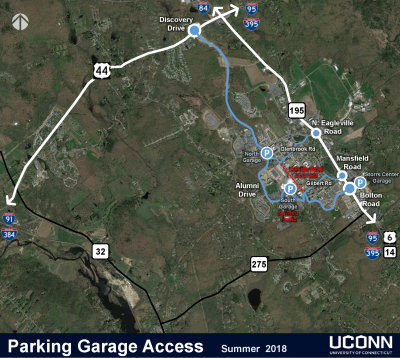 The North and South Parking Garages are open and will remain accessible throughout the summer.
Restricted access to McMahon Residence Hall, Greer Field House and the Student Union will be permitted in special circumstances upon request.  Hillside Road is scheduled to reopen to normal traffic by August 17th.
Additional information regarding where summer construction is planned, including anticipated traffic patterns and delays, is provided here.
We thank you for your continued patience and appreciate your understanding while we work to improve our campus facilities.
For more information, please contact Sean Vasington at sean.vasington@uconn.edu